When Mario was first launched in 1983 no one could have guessed that Nintendo's plumber would end up becoming one of the most famous cartoon characters ever. But he has, and it is not due to his ability to flex his muscles, but his infinite avatars, steady evolutionary graph, and the creative ability of the franchise to be ahead of the times.
As the Super Mario Bros Movie sets new records at the box office – earning a massive $58.23 million in its third weekend of release, a shout out to all Financial Institutions and FinTech's to ingrain Super Mario's characteristics and topple the Minions (the disruptions) with smart work, intelligent processes, and a partner like Magic FinServ.
Here is how to be like Mario and out run the Minions.
# 1 Have a trusted and loyal ally
The reason Mario survives all the escapades is because he has allies. Princess Peach, his twin brother, and many others who help him in his multiple adventures.
DeepSightTM – the trusted ally for fintechs
FinTechs need allies as well. They need an ally that understands their specific needs and provides them with customized solutions. Whether it is the automation of long-winded, repetitive, and mundane tasks or streamlining processes and ensuring STP, or ensuring ROI on the new tool that they have purchased, or simply amplifying the customer experience, DeepSightTM can do all of that for fintechs. DeepSightTM AI Optimization framework integrates process workflows and utilizes structured and unstructured data to build tailored solutions that reduce the need for human intervention. This promotes upto 70% efficiency in Front & Middle office platforms & processes. It provides their legacy systems with a new lease of life by integrating with the existing workflows and architectures seamlessly and ensuring accuracy, efficiency, and productivity.
# 2 Adapting and overcoming obstacles with least possible resources:
The reason the Mario franchise has thrived all these years is simply because they have been extremely agile and adaptable. Mario always gets his girl- Princess Peach. He always manages to rescue her from the Browser making up new tools and overriding the obstacles with a new imaginative approach.
Magic FinServ's winning deals: Helping fintechs adapt to changing times and customer preferences
Financial services have undergone a massive transformation in recent times. The need to provide an enriched customer experience in KYC is greater than before, however considering the flux that markets, fintechs must also measure the ROI when it comes to any new investment. In this catch 22 kind of situation, an AI and ML powered solution that can be planted and baked into existing applications to better it, while reducing the cost of ownership, and eliminating the overhead of paying for recurring subscriptions holds an edge over an off-the-shelf product. That solution is DeepSightTM
True digital transformation or modernization comes when organizations and processes are agile and adaptable to changing circumstances, because not everyone can build from scratch. Fortunately, fintechs have the advantage of a partner like Magic FinServ. Magic FinServ's financial services solutions, like Mario's trusted power-ups and tools, are built to scale and to be agile as per circumstances. We have a three-fold strategy for creating value, which begins with building a partnership – understanding the challenges, with the focus always on data management and technology, and pursuit of digital transformation.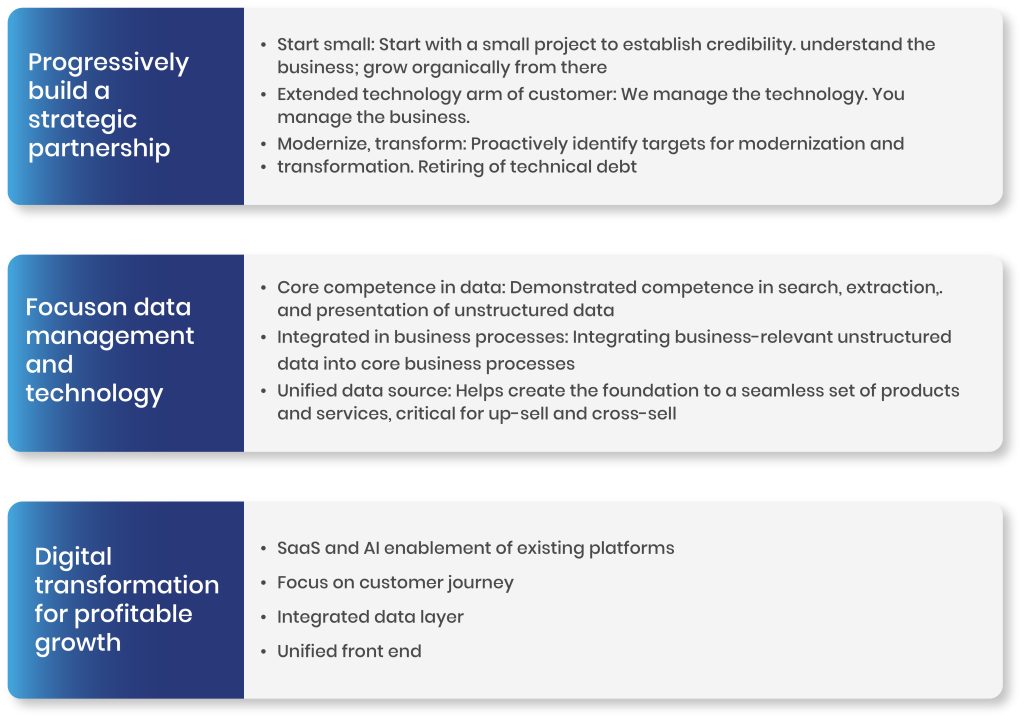 #3 Evolve continuously and constantly! Only the fittest survive
The secret of the FinTechs success story is their ability embrace any disruption quicker than the rest and ensure faster, smoother, and richer engagement with the customer compared to the monoliths or the banks and legacy FIs. In 2023, as the businesses (capital and financial markets) demands greater levels of personalization and engagement, Magic FinServ assures that fintechs stay on top of the game, here's how.
Magic FinServ: How we help the FinTechs evolve
Like Super Mario, we have several superpowers that can give a boost to the fintech's evolutionary journey.
A data expert partnering with the EDMC
A cloud and DevOps expert
Automation expert on workflows and APIs
Legacy transformation and rapid digitization experts
RegTech experts
DeepSightTM for making light mundane and repetitive work
We are also expanding our reach to new and unexplored domains such as generative AI and low/no code support and maintenance
We have a center of excellence for each of the avatars that we possess to keep abreast of the times. Our expertise in all the latest practices of Agile and DevOps, AI/ML, and the cloud enables a quicker, smoother transition/ evolution from stage 1 (largely manual and legacy architecture dependent) to a highly automated/advanced stage, and then to a futuristic stage that relies entirely on APIs and extremely intelligent and intuitive platforms.
# 4 Process Optimization: Leveraging Technology and Quality Data
Just like Mario needs to collect coins and power-ups to progress through the game, fintechs need access to financial services and tools that can help them grow and scale their business.
Magic FinServ's extended suite of solutions to prime up to every FinTech need
Magic FinServ offers a suite of solutions that can help fintech's with everything from payment processing to compliance, giving them the resources, they need to succeed.
Advisory Services: Leverages capital markets domain and understanding of business rules to create foundation for game changing digital transformation
Cloud Migration and Management: SaaS enablement of Fintech and custom IT platforms, best practice driven migration to cloud leveraging native properties of Azure, AWS, GCP
Quality Engineering: Magic FinServ performs comprehensive Functional, Performance Load, Security and User Acceptance Testing for our clients. We offer unique frameworks to build automation pipelines using custom solutions as well as industry standard tools like Selenium and Cypress
DevOps and Automation: Leverages Magic's proprietary automation fabric framework to build frictionless CI/CD and automated testing pipelines, using custom or open-source tools; thus, enhancing time to market
Production Support: Proactive SLA driven support/maintenance of applications, environments, and infrastructure (cloud) to ensure scalability, stability, and availability.
Platform Engineering and Integration: Leverages next gen & cloud native technologies, including Python, Node.js, Angular etc., building on inputs from advisory services to build, implement and modernize fintech platforms. Also, build and manage APIs, custom interfaces, data feeds in an automated manner to achieve seamless integration between OnPrem and Cloud.
AI/ML driven user experience: Leverage DeepsightTM , a Magic FinServ platform with AI/ML and RPA at its heart, to automate and integrate last mile business processes for improved user experience and enhanced benefits realization
# 5 Customizing response to different environments
Lastly, in each of his journeys, Mario navigates through different worlds and environments, each with their own unique challenges and obstacles, by smartly adapting as per need and using resources that are readily available.
Magic FinServ: How our rules-based solution is an ideal solution for meeting compliance and regulatory needs for different jurisdiction
In the fintechs world, there is increasing pressure to confirm rules and regulations. When you are operating in multiple geographies this can be cumbersome, as each region has its own set of rules, timelines, disclosures, etc., related with KYC, shareholding disclosures, ESG disclosures, AML, etc., and violations are severely punished with fines and penalties.
We address the key requirements according to geographies with an AI and ML powered approach that takes the rules governing that data for the jurisdiction and updates their impact on the value of key information, thereby ensuring that critical information is up to date. Our unique "rule-driven" solution with Data Management, Document Record Management, AI, ML, API Integration, and Reporting and Dashboard are powered to ensure that funds and wealth managers are kept up to date with the latest developments.
Be like Mario: Embrace disruption without falling apart!
Just like Mario needs his power-ups and allies to succeed, fintechs need reliable financial services solutions and experienced partners to help them grow and thrive and Magic FinServ is that partner. Magic Finserv's suite of solutions can provide fintechs with the resources they need to succeed in the competitive world of fintech and give them a winning edge over the competition while navigating the complex financial regulations and compliance requirements.