At Magic Pathshala, we are committed to creating a positive impact in society and the environment.
We hold the belief that education plays a crucial role in shaping a brighter tomorrow. Our employees take this opportunity to contribute to this initiative and imparting digital education for the underserved and underprivileged.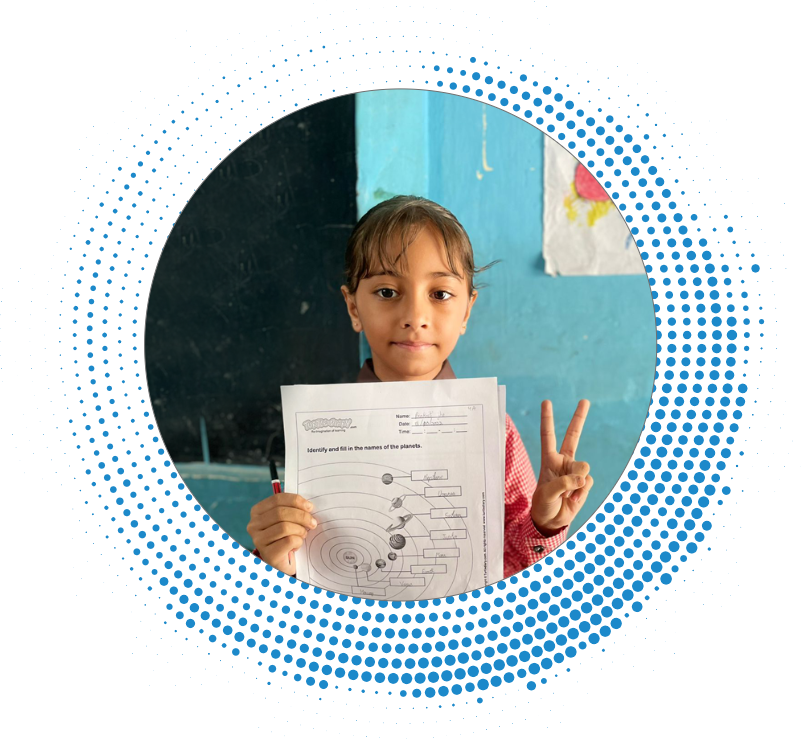 Magic Pathshala
'Pathshala' is a Hindi translation of the word "School". We believe that technology can create positive change in the world. With Magic Pathshala, we bring the digital school to every student and provide interactive learning material for everyone.
Magic Pathshala plans to collaborate with other non-profit organizations and NGOs to support their digital initiatives.
By leveraging cutting-edge technologies, we will produce educational material and offer our platform to assist them in disseminating this content to schools that cater to underprivileged populations.
Our Impact
We believe that this initiative is not just a box to be ticked, but a way of life. The educational content produced by Magic Pathshala has benefited over 2 million students and teachers, and its continued efforts aim to pave the way for a brighter future for these individuals. We are also working with government and non-government agencies and helping them bring this learning content to students in remote villages and districts across the country.
We are committed to creating a positive impact in society and the environment, and to working with partners who share our commitment to use technology for good.
Magic Pathshala team invites you to join us on this journey.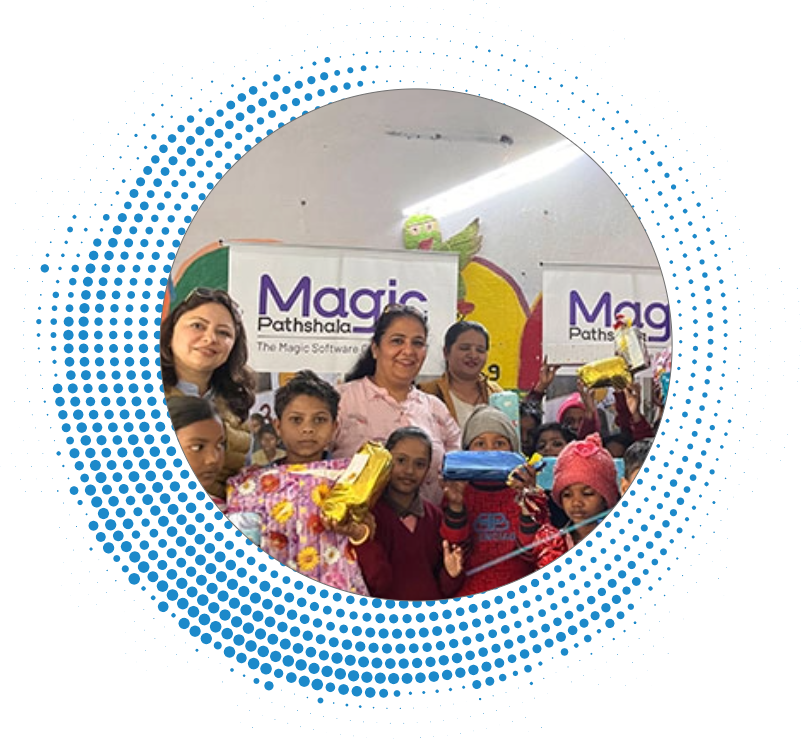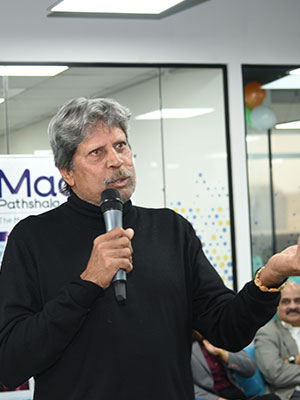 Kapil Dev sharing the importance of "Paying it Forward" with Team Magic.
Magic Pathshala partners with Kapil Dev's Khushii for the upliftment of children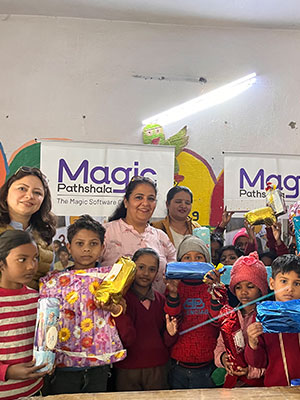 An all-smiles picture of our volunteers with the kids at Govt Primary School, Rohillapur.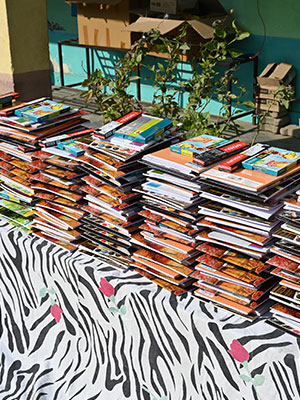 Distributing stationery and gifts among the children studying at the Government Primary School located in Rohillapur.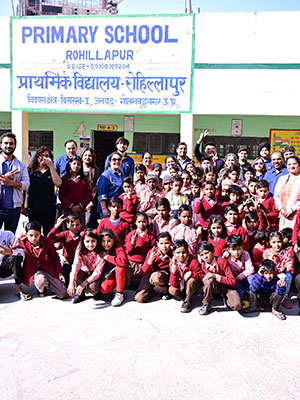 Our volunteers interacted with the underprivileged children of Govt Primary School, Rohillapur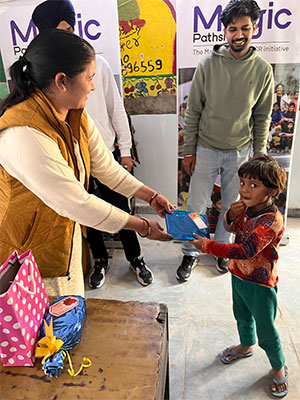 Team Magic Pathsha distributed gifts according to the students' wish lists.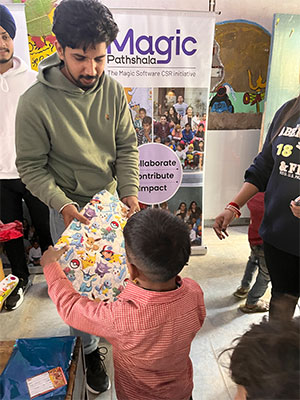 A team volunteer is delivering gifts to the students of Govt Primary School, Rohillapur.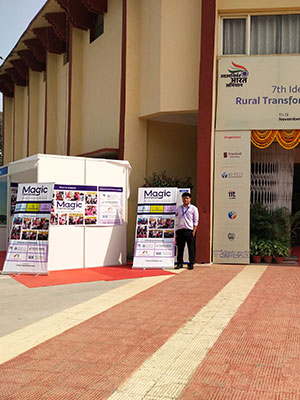 Team #MagicPathshala was honored to be a guest speaker at the '7th Ideal Village Conference' on Rural Transformation.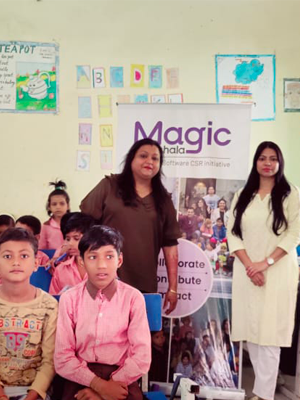 Designing activities that are appropriate for the age and grade levels of the students at Govt Primary School in Gejha, with the goal of engaging them and enhancing their learning experiences.
How Our Partners Power Our Initiatives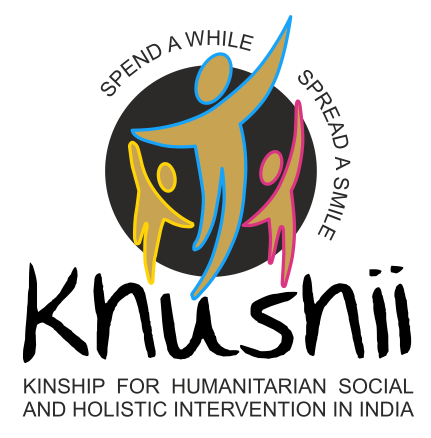 Khushii, a humanitarian organization in India, was established in 2003 with the goal of providing children with the necessary resources to achieve self-reliance, independence, and success in their careers. In order to advance this mission, Magic Software and its CSR initiative, Magic Pathshala, will play a vital role in sharing their resources and enhancing their commitment to universal digital learning.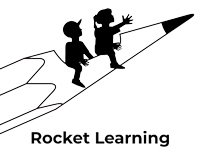 Rocket Learning is a non-profit organization in the field of education technology that is working to promote early childhood education and community engagement in India. Their mission is to help around 60,000 teachers reach over 1 million children every day. We are pleased to announce our collaboration with Rocket Learning to provide support to over 100 Anganwadi teachers.
As a part of this partnership, we will be providing digital hardware such as phones, as well as software including educational content, to enable these teachers to educate a total of 20,000 children. This will help to create a digital library that benefits a large number of children.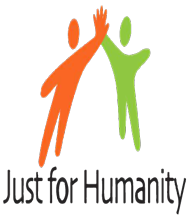 Just for Humanity is a non-profit organization based in New York that works worldwide to support vulnerable and homeless children in obtaining high-quality education and achieving their goals.
The organization focuses on supporting grassroots educational programs that have the potential to make a significant impact on underserved children, but lack the resources and exposure to do so. To enhance the quality of education offered to the children within the organization, Just for Humanity has partnered with Magic Pathshala, providing grassroots partners with access to Magic's education technology toolkit, online classes, and assistance in upgrading school facilities and classrooms. With the aid of Magic's resources, partners can easily access digital education services, thereby improving the quality of education offered to Just for Humanity's community of underserved children.

The main goal of the Wheels Foundation is to integrate school dropouts into society and improve their life skills by leveraging information technology.
Our organization collaborates with the Wheels Foundation to enhance the skill competencies of underserved students. Specifically, we work together to provide digital training to these students through our Magic Pathshala program. To support this effort, the Wheels Foundation generously donates laptops to our organization.

Charity Navigator enables donors to make informed philanthropic decisions by equipping them with data, tools, and resources.
The organization ensures that the non-profits they wish to support are rated highly in terms of efficient management of donations and exhibit accountability and transparency, providing donors with confidence in their decision-making.