"The unknown can be exciting and full of opportunity, but you have to be involved and you have to be able to evolve."
-Alice Bag
When it comes to hosting a website or application, banks and financial institutions, particularly medium seized nimble hedge funds and fintechs, have multiple options. Two of the most frequently used options are – commercial shared hosting and cloud hosting. While shared hosting relies on a single or distributed physical servers, cloud hosting draws on the power of the cloud, or multiple virtual interconnected servers spread across disparate geographical locations. In shared hosting, multiple users accede to sharing of the resources (space, bandwidth, memory) of a server, in accordance with a fair use policy. Cloud hosting is more modern and technologically superior, as a result, it is increasingly being sought by modern financial institutions as they navigate rapidly changing customer preferences amid disruptive market forces and escalating geopolitical rivalries to ensure seamless delivery of services every time.
Key factors to keep in mind while deciding between cloud and shared hosting
We have enumerated a few factors which will make it easier for you to decide between the two.
Performance: Website and application performance is a critical requirement. No business today would like to lose customers due to deteriorating site speed, hence website owners must consider the performance criteria while choosing the hosting. So, it is critical to question:
Does the website and application performance degrade during peak hours?
Does the site speed slow down and then it takes ages to get it running again?
What is the volume of traffic expected?
Would the volume of traffic be consistent all through or would there be peaks and valleys?
How resource-intensive would the website/application be? Depending upon how important site performance is for your business/ product, you can opt from the two.
Do I get real time and flexible performance analytics?
Reliability: Another key requirement is reliability. Business-critical processes cannot afford downtime. Downtime translates into a cent per cent loss for the business. It means that transactions and revenue earned are zero. It is also responsible for loss of brand value. Some studies also point out that downtime results in client abandonment. Considering the amount of time and effort it takes to acquire a customer, banks and Financial Institutions are wary of unplanned downtime.
So, questioning how your regular hosting might perform – will it snap under the weight of increased workload is advisable. It makes sense as well to know beforehand how many resources would be permanently allocated to the site (in case it is a shared hosting that you have chosen). For website or application stalling can snowball into a huge embarrassment or disruption.
Security: The security of data is of paramount importance for any organization. Data must be kept safe from breaches and cyber-attacks regardless of the costs. You must be extremely careful when you choose shared hosting, because when multiple websites have the same IP address, their vulnerability to attacks increases. It becomes inevitable then for the provider to monitor closely and upgrade the latest security patches as needed. The other option is cloud hosting.
Scalability: What if your site picks up speed or you desire to scale your online presence? What then? Can demand for on-demand scalability be met by the provider? Will the website be ready for the unexpected? What if there is a jump in workload (this depends on how much resource is permanently allocated to the site)? With cloud hosting, the biggest advantage is scalability. Cloud allows me to predict when to auto-scale multifolds, both in theory and practice.
Traffic Analytics: Cloud allows you to do traffic analytics and predict which segment of your target market or which geography is attracting more eyeballs for your offerings. You can customize analytics to suit your marketing requirements and do micro-positioning of your business. This is not possible with shared hosting or any other hosting options.
Budget: Budget is another key differentiator for organizations as they have to keep their businesses running while investing in technology. Cloud hosting is undoubtedly more expensive than vanilla shared hosting. But while shared hosting looks deceptively affordable, enterprise grade shared hosting can also be quite expensive if features and functionalities are compared side by side. Undoubtedly cloud offers advantages in the long-term from a Total Cost of Operations too. Cloud also offers several enterprise grade features that are not attached to vanilla shared hosting.
Ease of management: The key question here is – who will take care of the upkeep and maintenance costs? With organizations focusing on their core activities, who will be responsible for security and upgrade? What would happen in the case of any emergency – how safe would the data be? This has to be accounted for as well, as no one would want key information to fall into the wrong hands.
Business-criticality: Lastly, if it is an intensive, business-critical process, shared hosting is not an option because business-critical processes cannot afford disruption. If it is a new product launch that an organization is planning or a website that interfaces with the customer directly, businesses cannot go wrong. Hence the cloud is the preferable option.
Shared or cloud hosting?
When it comes to choosing between the two, shared hosting is certainly economical at a base level. It is the most affordable way to kickstart a project online. But if the project is demanding, resource-intensive, and business critical, you need to look beyond shared hosting even for a small and medium enterprise.
So, when we weigh all the factors underlined earlier, the cloud undeniably has advantages. It is a preferable option for banks and financial institutions that must ensure data security at all costs while also providing a rich user experience to their customers.
Advantage Cloud: 6 Cloud Hosting benefits decoded by Magic FinServ's Cloud team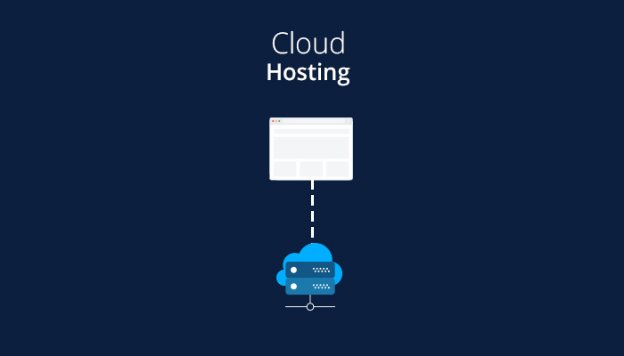 Cloud is far superior in terms of technology and innovation
Whether you are a FinTech raring to go in the extremely volatile and regulations-driven financial services ecosystem or a reputed bank or financial services company with years of experience and a worldwide userbase, there are many benefits when you choose cloud.
The cloud is one of the fastest-growing technological trends and is synonymous with speed, security, and performance.
There is so much more that an organization can do with the cloud. The advancements that have been made in the cloud, including cloud automation, enable efficiency and cost reduction. Whether it is an open-source or paid-for resource, these can be acquired by organizations with ease.
All the major cloud service providers, AWS, Microsoft Azure, and Google, offer tremendous opportunities for businesses as they become more technologically advanced each passing day. Also, cloud service providers have developed their own services that can be used by customers for solving key concerns. These native services are wide ranging starting from warehouses such as Redshift on AWS to managed Kubernetes containers on Azure Magic FinServ's team of engineers help you realize the full potential of the cloud, with deep knowledge of AWS and Azure native services and serverless computing.
Security is less of a concern when you choose the cloud
Security is less of a concern compared to shared hosting. In shared hosting, a security breach can impact all websites. In cloud hosting, the levels of security are higher and there are multiple levels of protection such as firewalls, SSL certificates, data encryption, login security etc., to keep the data safe.
Magic FinServ's team understands that security is an infallible construct in modern tech architecture. Our engineers and cloud architects are well acquainted with the concept of DevSecOps, where security is a shared responsibility and is ingrained in the IT lifecycle, and not taken care of at the end of the lifecycle.
Cloud offers more benefits in the longer term
Though in terms of pricing, shared hosting seems more affordable, there are several disadvantages:
The amount of hosting space for websites/applications is extremely limited as you rent only a piece of the server space.
The costs are lower upfront, but you lose the scalability associated with the cloud.
Performance and security also suffer,
For an agile FinTech, faster go to market is the key. Cloud offers you a platform where you can release products into the market significantly faster
For more on how you can evolve with the cloud, we have a diverse team comprising cloud application architects, Infrastructure engineers, DevOps professionals, Data migration specialists, Machine learning engineers, and Cloud operations specialists who will guide you through the cloud journey with minimum hassle.
High availability and scalability
When it comes to cloud hosting, the biggest advantage is scalability. With the lean and agile driving change in the business world, cloud hosting enables organizations to optimize resources as per need. There are multiple machines/servers acting as one system. Secondly, in the case of any emergency, cloud hosting ensures high availability of data due to data mirroring. So, if one server is disabled, there are others spread in disparate geographical locations that can ensure the safety of your data and ensure that processes are not disrupted.
Magic FinServ has consistently built systems with over 4 nines availability, being used by Financial Institutions, with provisions for both planned and unplanned downtime, thereby ensuring high availability and ensuring that your business does not suffer even under the most exacting circumstances.
Checking potential threats – Magic FinServ's way
Our processes are robust and include a business impact analysis to understand the potential threat to business due to data loss. There are two key considerations we take into account, the Recovery Time Objective (RTO) which is essentially the window needed for data recovery, and RPO or Recovery Point Objective which is the maximum tolerable period during which the data might be lost. Keeping these two major metrics in mind, our team builds a robust Data Replication and Recovery Strategy aligned with the business requirement.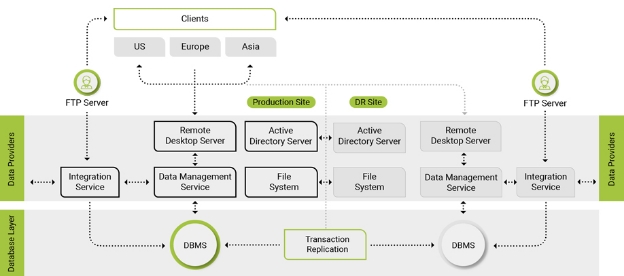 Effective monitoring mechanism for increasing uptime
We have built a robust monitoring and alert system to ensure minimal downtime. We bring specialists with diverse technological backgrounds to build an effective & automated monitoring solution that increases the system uptime while keeping the cost of monitoring under check.
Better cost control with shared hosting
When organizations choose shared hosting, they have better control of costs. This is principally because only specific people can commission additional resources. However, this is inflexible. We have seen that though the cloud allows greater autonomy for Dev Pods of today – allowing people to spin resources easily from the cloud; on the flip side, there are instances where people forget to decommission these resources when they are no longer required – escalating the costs needlessly. With shared hosting, the costs are predictable and definite.
Fail fast and fail forward – smarter and quicker learning
Lastly, for a nimble FinTech of tomorrow, you want to quickly test new products and discard unviable ideas equally fast. Cloud allows Product and Engineering teams to traverse the Idea-to- Production" cycle faster. Cloud allows Fail fast and fail forward concepts to work smoothly for a Product and Dev Pod of tomorrow. Go-to-Market becomes faster and CI/CD and Containers on Cloud allow new features to be introduced on a weekly basis or less. Organizations thus significantly benefit from smarter and quicker learning.
Big and Small evolve with the Cloud: Why get left behind?
In the last couple of years, we have been seeing a trend where some of the biggest names in the business are tiptoeing into the future with cloud-based services. Accenture has also forecasted that in the next couple of years Banks in North America are going to double the number of tasks that are on the cloud (currently 12 percent of tasks are handled in the cloud). Bank of America, for example, has built its own cloud and is saving billions in the process. Wells Fargo also plans to move to data centers owned by Microsoft and Google, and Goldman Sachs says that it will team up with AWS to give its clients access to financial data and analytical tools. Capital One, one of the largest U.S. banks, managed to reduce development environment build time from several months to a couple of minutes after migrating to the cloud.
With all the big names increasingly adopting the cloud, it makes no sense to get left behind.
Make up your mind! today!
If you are still undecided on how to proceed, we'll help you make up your mind. As the one- size-fits approach for technology implementation is no longer applicable for the banks and financial institutions today – the nature of operations has diversified and what is ideal for one is not necessarily good for the other. But when you have to keep a leash on costs while ensuring a rich and tactile user experience, without disruption to business, the cloud is ideal.
With a partner like Magic FinServ, the cloud transition is smoother and faster. We ensure peace of mind and maximize returns. With our robust failover designs that ensure maximum availability and a monitoring mechanism that increases uptime, and reduces downtime, we help you take the leap into the future. For more, write to us at magicfinserv@gmail.com.