No More Contract Nightmares. The 5 Levers for Smarter Contract Data Management Transformation!
Aradhana Khanna
May 10 2023
For most organizations, the lack of timely insights can make contract data management a nightmare. Without the necessary tools and technologies, many organizations can be caught off-guard when it comes to negotiations, execution, renewals, and termination of contracts. It is estimated that lack of timely insight into obligations and terms can result in revenue leakage of more than 9% annually. Source: (World Commerce and Contracting)
Whether it is Auto-Renewal, Termination, and in recent times Force Majeure, these clauses within the contract results in unnecessary diversion from business objectives, as the excessive reliance on the manual approach can only lead to unsavory incidents and disagreements between parties concerned.
No one would want that. The experts point out that an average Fortune 1000 company could handle several tens of thousands of contracts. Now if we were to consider the various stages of the contract management lifecycle - negotiations, execution, renewal and the multiple stakeholders involved - sales, finance, and legal teams, all this would simply mean that the amount of effort deployed (and expenses paid) to ensure streamlined operations would be huge. Source: (World Commerce and Contracting)
Hence in recent times, businesses have switched from the predominantly manual approach of contract data management to a more agile and technology-oriented perspective using automation, digitization, and robust data management (including meta data management) practices such as organizing a unique repository for each contract and curated database for locating a specific contract with ease. This shift provided organizations with a definite strategic advantage even during the pandemic, improved vendor relationships, enhanced visibility, and business gains as negotiations were conducted timely, while keeping at bay all possible risks.
So, if you are considering an overhaul to have better control over your contract data management, here are the 6 key players that could be a game changer for your organization.
5 key players of Contract Lifecycle Management
According to the latest forecast by Gartner, by 2023, artificial intelligence (AI) will enable 30% faster contract negotiation and document completion processes in organizations that deploy leading contract life cycle management (CLM) solutions. As a fintech or financial organization, you can still salvage the situation. For reports point out that the latest tools are enhanced with a version control mechanism and searchable repositories for arriving at the single source of truth with minimum effort and human intervention resulting in significant productivity improvement and reduction of sales cycles.
Digitizing data: Begin with the digitization of data. Keeping track of documents, the multiple edits that are incorporated from time to time, can be a tedious and wasteful exercise. Furthermore, with data existing in silos a nightmare situation can arise if stakeholders have multiple versions of the contract. In order to avoid contract nightmares, the first critical step is to digitize data. Whether public documents, emails, or paper agreements, digitize the contracts so that there is a single source of truth.
The 5 levers of transformation
When it comes to contract data management, the following technologies have a key role to play in its transformation. The following 5 levers of transformation supplant the slack/inefficiency associated with traditional manual contract data management and provide it with agility, visibility, accuracy, faster response times, and productivity.
Optical Character Recognition: Once organizations have proceeded with the digitization of the diverse document types, they must work out how they must extract relevant information from the volumes of data available because machines inherently lack the power to read them. Despite the variety of document types, and field types - names, dates, boilerplate text, different fonts, and even handwriting, OCR can read through it all and extract the relevant information faster in a standardized, streamlined fashion.
Natural Language Processing: The language used in contracts is complicated and legal in nature and can be best understood by professionals or the legal experts. A rule-based approach enables progressive understanding of the terms and the context, and organizations can even retain experts for relating and better understanding of context when it comes to ambiguous/difficult-to-understand terms and conditions.
Robotic Process Automation: Contract automation has been defined as the software to enable both legal and non-legal teams to self-serve on routine legal documents, at scale, without needing to involve lawyers every time. It can be described as the process of generating, managing, and storing contracts digitally to create a more efficient contract workflow. In order to bring about greater productivity and efficiency, we recommend automation of all tedious and repetitive data extraction tasks.
Machine Learning and Artificial Intelligence: No organization will like to miss the deadlines as there could be significant costs associated with it. Staying-up-to speed on contract renewals can seem like an uphill task, but with artificial intelligence and machine learning, you can ensure that your teams never miss an important obligation. Artificial Intelligence and Machine Learning comes streamlines the process for most organizations dealing with multiple contracts (big organizations juggle some 20,000 and 40,000 active contracts). Keeping up-to-date and abreast of the latest on a monthly or yearly basis would simply be impossible without the technology underlined above.
Taking control of contract management with Magic FinServ's DeepSightTM
We can help streamline contract data management. Ensure that there are no contract nightmares that ever cause organizations to pull in resources needlessly for firefighting. Here's how we assure a smarter contract management powered with OCR, RPA, AI and ML.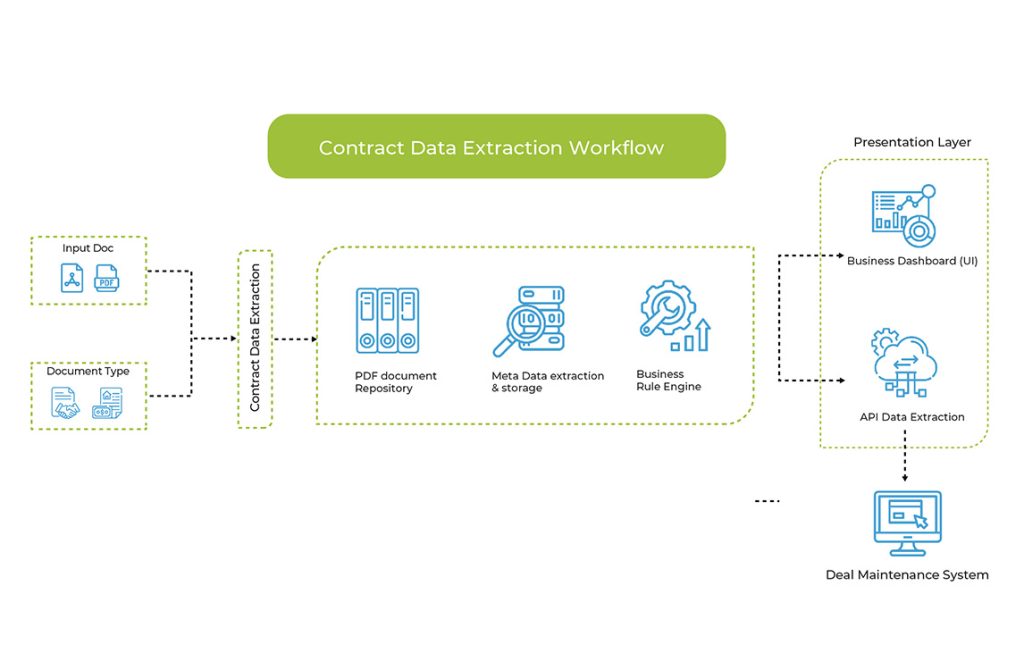 Magic's DeepSightTM - the process optimization platform along with our Advisory practice provides a configured solution that acts as a virtual assistant to the analyst thereby reducing the complexity of the task. It automates standard processes to reduce errors and omissions and enables the less experienced and less skilled analysts to be able to perform their tasks.
How DeepSightTM works?
Processing diverse documents: Service Provider Agreements vary by type of service; each service provider has its own unique terms and conditions. These documents have to be categorized according to type of service and for each service provider, relevant content identified and extracted
Unique folder for easier access and retrieval: Our solution not only identifies and segregates different documents but also files all documents for a particular service provider in the same folder to enable ease of access and retrieval.
Rules based: Magic DeepSightTM solution incorporates business specific rules to identify relevant information and extract the same and update it in deal maintenance system after proper cleansing, enriching and transformation. Content extracted can be key value pairs, tables, or free flow content such as covenant clauses. If it is deal related, the key value pair is extracted. In the case of governance, contextual data is extracted and in deal maintenance details, combination of contextual and key value pairs are extracted which are all driven by the rules. Solution can go through the entire set of documents related to a particular deal including annexures, renewals, etc. to identify the latest terms and incorporate in the deal maintenance system.
But remember all this starts and ends with data. Data is the motherboard of contract lifecycle management. So as an organization we are in a unique position to aid data-driven transformations as we have the expertise, and the skill sets to deal with all your concerns. If you too would like to know, how we can be of help, contact us mail@magicfinserv.com.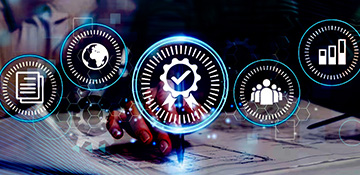 Get insights straight into your inbox!