Wealth managers are standing at the epicenter of a tectonic shift, as the balance of power between offerings and demand undergoes a dramatic upheaval. Regulators are pushing toward a 'constrained offering' norm while private clients and independent advisors demand a more proactive role. FinTech Innovation: Paolo Sironi
Artificial Intelligence, Machine Learning-based analytics, recommendation engines, next best action engines, etc., are powering the financial landscape today. Concepts like robo-advisory (a $135 Billion market by 2026) for end-to-end self-service investing, risk profiling, and portfolio selection, Virtual Reality / Augmented Reality or Metaverse for Banking and Financial trading (Citi plans to use holographic workstations for financial trading) are creating waves but will take time to reach critical value.
In the meanwhile, there's no denying that Fintechs and Financial Institutions must clean their processes first - by organizing and streamlining back, middle, and front office operations with the most modern means available such as artificial intelligence, machine learning, RPA, and the cloud. Hence, the clarion call for making back, middle and front office administrative processes of financial institutions the hub for change with administrative AI.
What is administrative AI?
Administrative AI is quite simply the use Artificial Intelligence based tools to simplify and make less cumbersome administrative processes such as loans processing, expense management, KYC, Client Life Cycle Management / Onboarding, data extraction from industry websites such as SEC, Munis, contract management, etc.
Administrative AI signals a paradigm shift in approach – which is taking care of the basics and the less exciting first. It has assumed greater importance due to the following reasons:
Legacy systems make administrative processes chaotic and unwieldy and result in duplication of effort and rework:
Back and middle office administrative processes are cumbersome, they are repetitive, and sometimes unwieldy – but they are crucial for business. For example, if fund managers spend their working hours extracting data and cleaning excel sheets of errors, there will be little use of the expensive AI engine for predicting risks in investment portfolios or modeling alternative scenarios in real time. With AI life becomes easier.
Administrative AI increases productivity of work force, reduces error rate resulting in enhancec customer satisfaction
AI is best for processes that are high volume and where the incidences of error are high such as business contracts management, regulatory compliance, payments processing, onboarding, loan processing, etc. An example of how Administrative AI reduces turnaround time and costs is COIN – contract intelligence developed by J P Morgan Chase that reviews loan agreements in a record time.
Administrative costs are running sky-high: In 2019, as per a Forbes article, Banks spent an estimated $ 67 billion on technology. The spending on administrative processes is still umongous. From the example provided below (Source: McKinsey) 70% of the IT spend is on IT run and technical debt that is the result of unwieldy processes and silos.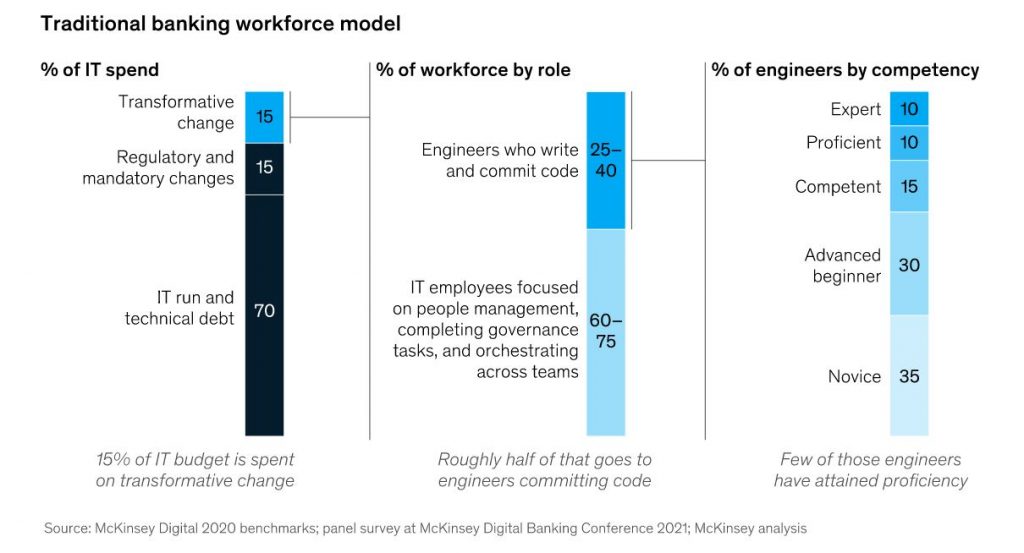 Without reaching the critical mass of process automation, analytics, and high-quality data fabric, organizations risk ending up paralyzed
And lastly, even for the moonshot project, you'll need to clear your core processes first. The focus on financial performance does not mean that you sacrifice research and growth. However, if processes that need cleaning and automation are not cleaned and automated, then the business could be saddled with expensive start-up partnerships, impenetrable black-box systems, cumbersome cloud computational clusters, and open-source toolkits without programmers to write code for them." (Source Harvard Business Review )
So, if businesses do not wish to squander the opportunities, they must be practical with their approach. Administrative AI for Fintechs and FIs is the way forward.
Making a difference with Magic DeepSightTM Solution Accelerator
Administrative AI is certainly a great way to achieve cost reduction with a little help from the cloud, machine learning, API-based AI systems. In our experience, we provide solutions for such administrative tasks that provides significant benefits in terms of productivity, time and accuracy while improving the quality of work environment for the Middle and Back-office staff. For banks, capital markets, global fund managers, promising Fintechs and others, a bespoke solution that can be adapted for every unique need like DeepSightTM can make all the difference.
"Magic DeepSightTM is an accelerator-driven solution for comprehensive extraction, transformation, and delivery of data from a wide range of structured, semi-structured, and unstructured data sources leveraging cognitive technologies of AI/ML along with other methodologies to provide holistic last-mile solution."
Success Stories with DeepSightTM
Client onboarding/KYC
Extract and process a wide set of structured/unstructured documents (e.g., tax documents, bank statements, driver's licenses, etc.
From diverse data sources (email, pdf, spreadsheet, web downloads, etc.)
Posts fixed format output across several third-party and internal applications for case management such as Nice Actimize
Trade/Loan Operations
Trade and loan operation instructions are often received as emails and attachments to emails.
DeepSightTM intelligently automates identifying the emails, classifying and segregating them in folders.
The relevant instructions are then extracted from emails and documents to ingest the output into order/loan management platforms.
Expense Management
Invoices and expense details are often received as PDFs or Spreadsheets attached to emails
DeepSightTM Identifies types of invoices – e.g., deal related or non-deal related or related to any business function legal, HR etc.
Applies business rules on the extracted output to generate general ledger codes and item lines to be input in third-party applications (e.g., Coupa, SAP Concur).
Website Data Extraction
Several processes require data from third party websites e.g., SEC Edgar, Muni Data.
This data is typically extracted manually resulting in delays.
DeepSightTM can be configured to access websites, identify relevant documents, download the same and extract information.
Several processes require data from third party websites e.g., SEC Edgar, Muni Data.
Applies business rules on the extracted output to generate general ledger codes and item lines to be input in third-party applications (e.g., Coupa, SAP Concur).
Contracts Data Extraction
Contract/Service/Credit agreements are complex and voluminous text-wise. Also, there are multiple changes in the form of renewals and addendums.
Therefore, managing contracts is a complex task and requires highly skilled professionals.
DeepSightTM provides a configured solution that simplifies buy-side contract/service management.
Combined with Magic FinServ's advisory services, the buy-side firm's analyst gets the benefits of a virtual assistant.
Not only are the errors and omissions that are typical in human-centric processing reduced significantly, but our solution also ensures that processing becomes more streamlined as documents are categorized according to type of service, and for each service provider, only relevant content is identified and extracted.
Identifies and segregates different documents and also files all documents for a particular service provider in the same folder to enable ease of access and retrieval.
A powerful business rules engine is at work in the configuration, tagging, and extraction of data.
Lastly, a single window display ensures better readability and analysis.
Learning from failures!
Before we conclude, an example of a challenger bank that set up an account within 10 minutes, and provided customers access to money management features, and a contactless debit card in record time to prove why investor preferences are changing. It was once a success story that every fintech wanted to emulate. Toda. y, it is being investigated by the Financial Conduct Authority (FCA) over potential breaches of financial crime regulations. (Source: BBC) There were reports of freezing several accounts on account of suspicious activity. The bank has also undergone losses amounting to £115 million or $142 million in 2020/21 and its accountants about the "material uncertainty" of its future.
Had they taken care of the administrative processes, particularly those dealing with AML and KYC? We may never know? But what we do know is that it is critical to make administrative processes cleaner and automated.
Not just promising FinTechs, every business needs to clean up its administrative processes with AI:
Today's business demands last-mile process automation, integrated processes, and a cleaner data fabric that democratizes data access and use across a broad spectrum of financial institutions such as Asset Managers, Hedge Funds, Banks, FinTechs, Challengers, etc. Magic FinServ's team not only provides advisory services; we also get into the heart of the matter. Our hands on approach leveraging Magic FinServ's Fintech Accelerator Program helps FinTechs and FIs modernize their platforms to meet emerging market needs.
For more information about Magic Accelerator write to us mail@magicfinserv.com Or visit our website: www.magicfinserv.com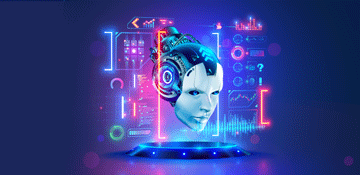 Magic DeepSight™
Comprehensive Data Extraction, Transformation, and Delivery using AI.
Get insights straight into your inbox!