EDM Strategy for Buy-Side Firms: Getting it Right
Ishita Sharma
January 14 2022
"What you know cannot really hurt you" Nassim Nicholas Taleb
Enterprise data management (EDM) long ceased to be an option, in the post-pandemic business landscape, it is a necessity driven by a cross-influence of factors such as increased compliance, rising costs of operations, risk management, client relationship management, and more importantly the ability of the management to be on top of the situation, keeping in mind the fact that everyone is operating virtually, all of which depends on how smoothly and efficiently data is managed.
However, Alveo's 2021 survey for hedge funds suggests that most buy-side firms are enmeshed in data management challenges. For most, data management continues to be a concern.
Nearly 23 % of the firms surveyed talked about fragmented and unreliable data and the challenges that arose due to it.
Data maturity remained low: 24 % of the surveyed scored poorly in terms of data maturity (defined by CMMI Institute's Data Management Maturity Model.)
Process discipline was found lacking. Instead of focusing on ''prevention" firms focused on repair – or patchwork, when it comes to processes involved in improving the quality of data.
Redundant data feeds are a problem. 77 % of the firms surveyed reported that organizations require the same data multiple times from the vendor. Adding to the costs.
The collection and analysis of environmental, social, and governance data sets are critical today. However, only 45% of buy-side firms surveyed said that they had a centralized mechanism that made their data secure and accessible.
If the whereabouts of organizational data (operational, financial, strategic, and data generated via network logins and alerts) and what can be done with it are known to a firm, they not only avoid day-to-day disputes but also stay up-to-date with the latest trends and changing investor demand and competition.
That is where enterprise data management (EDM) comes in.
"Enterprise Data management is the development, execution, and supervision of plans, policies, programs and practices that control, protect, deliver and enhance the value of enterprise data and information assets."
Provided below is how EDM functions: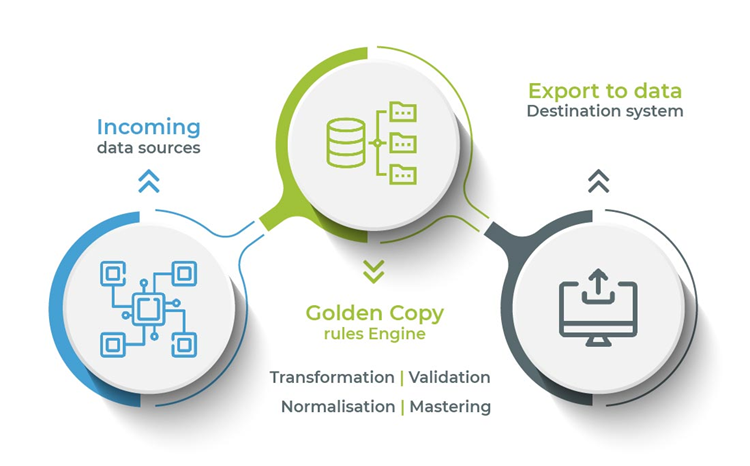 A differentiator for buy-side firms
A centralized EDM enables data blending and golden rules creation - that goes a long way in preventing disputes between business units such as operations, trading, compliance, and risk – of a buy-side firm.
As no single vendor can cater to the needs of firms that handle multiple asset classes, investment strategies, and products, therefore a holistic and enterprise-wide data management strategy is needed. Else it would be pure chaos with firms paying for data that is redundant.
Enterprise data management makes it easier for buy-side firms to provide their stakeholders with real-time visibility into risk factors.
Today, we are seeing a lot of new-generation portfolio management systems. These are designed to meet the ever-increasing demands of banks, asset managers, hedge funds, brokers, and insurance companies who want transparency and accountability to stay competitive. A centralized EDM ensures better management and control of data for these differentiated products
Planning for EDM
Before planning the EDM, here's a list of the prerequisites that need to be defined to ensure that tech strategy is in sync with the business goals and objectives.
Begin with an EDM audit.
Vision: Define the core values of the EDM program.
Goals: The strategic goals, objectives, and priorities behind the EDM program
Governance model: Chalk out how the enterprise-wide program would be managed and implemented
Choose the appropriate technology, and get backing from key executives.
Resolution of issues: Ensure what kind of mechanism would be in place for identifying, triaging, tracking, and updating data issues.
Monitoring and Control: How to measure the effectiveness of the program? Identify the leaders in charge.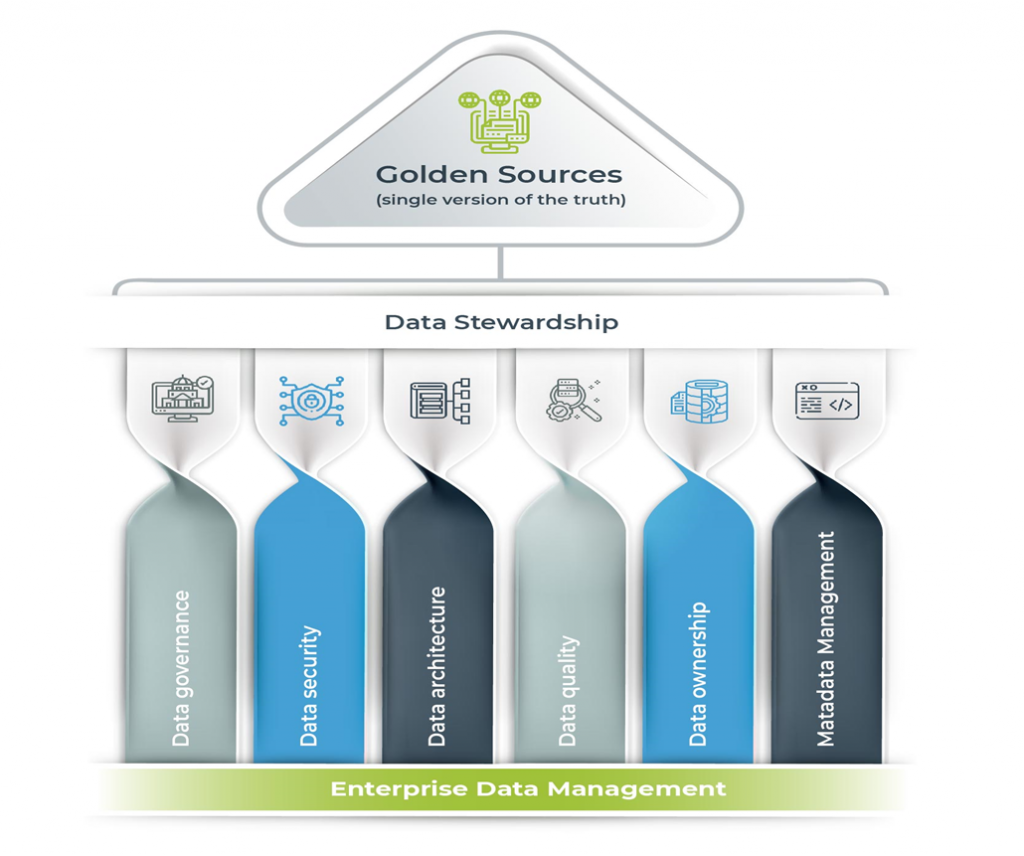 Key elements or capabilities of EDM
The objective of the EDM strategy is to create the Golden Sources or the Single version of truth and ensure that it is disseminated across the proper channels and intended signatories. So here are the key elements or pillars in reaching that end goal.
Critical Data Inventory: All those extremely important data elements that are required for making key business decisions must be handled carefully and with the full knowledge of all stakeholders involved.
Data Sharing and Governance: Ingrain a data-sharing culture across the board, in its right spirit. Everyone must be aware of the rules and regulations regarding data sharing securely. Whether there is limited-time access to data, or complete access, or denial of access (data is hidden), data sharing and governance streamlines the organization's flow of data so that information is not released to anyone apart from the intended party.
Data Architecture: In the whitepaper: A Case for Enterprise Data Management in Capital Markets, it has been suggested that the layered approach in which each " each horizontal (technology) function/capability is managed separately as a shared service across the vertical (business) function/capability" does not lead to the chaos and confusion seen in the end-to-end functionality approach which leads to silos.
Data Integration: Data integration is a multi-pronged process, but the essence of data integration is that it ensures that data from multiple sources are integrated to provide a single amalgamated view. As underlined earlier, the benefits of a unified repository are many. But primarily it ensures that data is actionable and available to anyone who needs access to it. Data integration marginalizes costs as there is less rework and error. Data Quality Management: The quality of data is important for ensuring optimum outcomes. Too often, when dealing with data, whether it is financial or strategic or operational, or even network logs and alerts, the quality of data is suspect. With data quality and management, organizations are assured that they have cleaner and high-quality data readily available. Data quality management ensures that organizations have high-quality data at their disposal after data processes such as data cleansing and integrity checks.
Metadata Management: In 2020, Magic Quadrant for Metadata Management Solutions the software category was defined by Gartner, "a core aspect of an organization's ability to manage its data and information assets."
Metadata is information about data. Metadata primarily captures aspects of data like type, length, timestamp, source, and owner, that can be traced back. It can be created manually, or with a data processing tool. For describing, understanding, and creating an inventory of data, for data governance and risk and compliance, metadata management is a requisite.
Master Data Management: Master data management, refers to the organization, centralization, and categorization, of master data. Simultaneously, master data management also enriches data, so that the organization uses the most accurate version – the 'golden record' to ensure that the data that is disseminated to applications downstream is consistent.
State of data maturity
It is also important for firms to realize the state of data maturity. Only 9 percent of the buy-side firms had high levels of data maturity as per the CMMI Institute's scale.
To reach higher levels of data maturity as per CMMI Institute guidelines firms must:
"See data as critical for survival in a dynamic and competitive market.
Optimize process performance by applying analysis on defined metrics for target identification of improvement opportunities.
Ensure that best practices are shared with peers and industry. "
How data is managed and controlled is important now that the work model has changed considerably
The pandemic has marked a sea change in the way businesses function today. There's not much physical interaction between people and in such a scenario, data and how it is disseminated, managed, and controlled assumes great importance – especially in the case of capital markets. So, to be without a viable EDM strategy is like committing a "Hara-Kari."
Magic FinServ - your data management partner
We understand why high-quality data is of paramount importance for FIs today. With many FIs walking the tightrope between stricter regulatory compliance and rising customer expectation, with challengers in hot pursuit, quality data is all it takes retain the edge.
Unclean, inconsistent, and poor-quality data weighs down on enterprise resources. It clogs business applications that run on data and makes it an uphill task for any organization to achieve any kind of growth. Today, true transformation begins with a clear understanding of data. Hence the need for a data model.
Enabling clear understanding of data needs: We help FIs and Banks understand their data requirements by understanding what they have, what they need (in terms of the quality of data and more) and analyzing how their business processes are impacted in real-time by drawing an abstract model. And that is not all. Having partnered with multiple banks and FIs, we know that time saved is "dollars" earned and hence the importance of minimizing the amount of effort required to extract only relevant data from unstructured and offline sources, and creating a single version of truth.
Experts in the field: Today, data sources have proliferated. With organizations having to take account of ESG and Blockchain data as well, there is not much that traditional systems can do to ease the burden – and ensure clean, consistent, structured, and auditable data. Only an expert in the domain of capital markets like Magic FinServ with expertise not only in AI and ML (our proprietary Magic DeepSight™ is a one-stop solution for comprehensive data extraction, transformation, and delivery), but also in the cloud, APIs and Smart Contracts can rightfully create a single version of truth, after consolidating data from the multiple sources that are in existence today to create a golden source.
Unique perspective in reference data: Having worked extensivelywith a major global multi-class investment solution provider for more than 6 years and successfully delivering on all reference data specific implementations in the complete value chain for Security Master, Pricing, Ratings, Issuer Data and Corporate Actions projects, across the geography for various key accounts and established buy-side entities has provided Magic FinServ a unique perspective in reference data that we are happy to share with our clientele.
Unmatched value: When it comes to sheer depth of knowledge and experience in working with industry-leading platforms for reference data - Simcorp Dimension, TCS BaNCS, Everest, SAXO Trader, amongst others – Magic FinServ's expertise is unmatched. Not just Implementation, we are also your Go-to partner in Delivery, Custom Development, QA, and Support.
Skilled team: We are experts in delivering projects from kick-off to go-live in market data as well. Our team brings in unmatched efficiency and experience in delivering projects for different industry-renowned market data providers (for different regions) like Six, ICE, Telekurs, Bloomberg, Refinitiv, Markit, Custodian Feeds in the SWIFT ISO15022 format. The engagement further strengthens in managing requirements in relation to Data Architecture, Integration Aspects, and Management of Master Data.
In tune with the latest trends - AI and ML: There's a perceptible shift in the industry towards harnessing AI and ML-based solutions. This is evident in the way industry leaders are talking about enhancing current mature product offering by introducing AI and ML based approaches to it. With the advent of modern technologies like AI and ML, multiple use cases of their adoption have also emerged in Reference Data Management. Some of the prominent use cases where Magic FinServ brings value are:

Automation of Business Processes

Lowering the cost and increasing the Operational Efficiency in the Post-trade Processes: Confirmation, Settlement of Trades, Reconciliation of Position, Cash Balances, NAV's, etc.

Handling complex data issues like Missing Data, Stale Information or Erroneous Data; ML techniques can be applied to identify and flag out the issues after careful assessment and Model integration.

Exception Management and Increasing STP, with ML at the core

Due Diligence and Comprehensive Risk Assessment: However, introducing AI and ML to Enterprise Data is not a cakewalk. It requires thorough due diligence and comprehensive risk assessment. That's where we come in. Not only do we have the experience in navigating pitfalls, but our team – competent in the latest AI and ML trends - can help clients surmount the odds. Not only do we (help) in assessing customer's current needs but also propose and help them envisage the future landscape by owning and driving their AI and ML journey to the target state.
Merits of a partnership with EDM Council: The EDM council is a Global Association created to elevate the practice of Data Management as a business and operational priority - and is a leading advocate for best practices with regards data standards. As underlined earlier, accessing the state of data maturity and identification of the gaps that exist in the data environment are prime requirements for reaching enterprise maturity. Here Magic FinServ can drive a definite advantage. Thanks to our partnership with the EDM council, we are in a position to accurately access the state of client's Enterprise Data Maturity leveraging industry leading frameworks approved by the EDM Council.
Going beyond pure advisory: Our services go beyond pure advisory. Our exhaustive domain knowledge and competency in managing and implementing EDM solutions are key differentiators when it comes to managing and standardizing our client's data in line with industry approved and vetted global standards.
Upping the game with Magic FinServ
Magic FinServ brings a deep understanding of the financial services business to help FinTech and Buy-side firms build and support their EDM platform. We offer sophisticated tools, products, and services using AI and Analytics to manage data repositories, organize business glossaries, create and improve data lineage, review and optimize reporting rules, create and manage semantic frameworks and improve data quality of financial institutions. We cover the complete data lifecycle from data strategy and management, bringing in capabilities for Data Inventory, Integration, data quality, Profiling, Metadata Management and Data Privacy for our customers.
For more information about our services and solutions, connect with us today. Write to us at mail@magicfinserv.com. We'll be glad to be of assistance.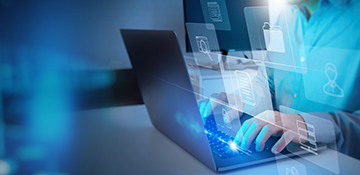 Enterprise Data Management
Sophisticated tools, products & services to manage data repositories, organize business glossaries, improve data lineage and quality
Get insights straight into your inbox!