Bracing for a tumultuous 2022 with AI, ML and Cloud
Aradhana Khanna
April 7 2022
2022, began with a cautionary note. Stocks slumped and inflation spiked to unprecedented levels worldwide. There was massive disruption of the supply chain due to the pandemic. Just when we thought the worst was over, the breadbasket of Europe, Ukraine was drawn into a devastating war. The uncertainties and geopolitical tensions had a massive impact on the world's economy - best reflected in the volatility of the stock markets.
It is clear that we are going through uncertain times. That the uncertainties will continue for a long time to come is definite. How must organizations then preempt the challenges lying ahead? What is the key to survival?
In this blog, we'll attempt to answer these. But first, let us take stock of the primary challenges that organizations will face in 2022. For many, survival will depend on how they tackle the challenges mentioned below.
Key challenges 2022
1. Limited budget and spend: Faced with revenue and growth uncertainties, organizations are limiting spend on non-critical areas. While technology is a leveler, to make the best use of the dollars spent on technology, you must ensure that the processes are optimized first by investing in areas that deliver quick wins rather than aiming for the moonshot.
2. Great attrition and the battle for brains: With more than 19 million American workers quitting their jobs since April 2021, the disruption is massive. But holding on to low- talent employees isn't effective in the long run.
3. Managing support function: With the WFH culture, the demands on the support function have increased exponentially. Fortunately, most of the time-consuming, repetitive, work in accounts payable, loans processing, KYC, AML, and onboarding can be handled more accurately and cost-effectively with AI and ML, and RPA.
4. Ensuring compliance in WFH: We have seen how the organization's reputation takes a hit when it falls prey to data breaches as well as compliance failures as was the case with Uber and Panera Bread, where employee carelessness resulted in data breaches. However, an effective cloud strategy and cloud risk management approach navigates risks and improves customer experience. All by driving a collaborative ecosystem.
5. Getting data right: Surveys indicate that nearly a quarter of firms are concerned about fragmented and unreliable data. Though the amount of data has increased manifold times, it is unwieldy and of poor quality.
5. Getting rid of silos – integrating fast: Today one of the biggest problems with data is its existence in silos. You want to make your data useful; you will have to clean it up and structure it. You want to migrate to the cloud; you'd have to know how to make it cost- effective.
2022 would require Enterprises to Adapt, Consolidate, Reinforce with AI, ML, and the Cloud
Data, it is evident, will be playing a defining role in 2022. Whether it be for creating a strong governance framework, or for consolidating systems, data, and processes, or promoting a risk- averse culture. So,
Organizations must act fast and consolidate and reinforce their key capabilities
They must become agile and nimble – and learn how to manage their data faster than the others.
In a highly leveraged world with a fractured supply chain, organizations must get rid of multiple and disparate systems – the silos. They must integrate their processes. This cannot be done without bridging the silos and ensuring last mile process automation.
Magic FinServ: Making Enterprises Agile, Responsive, and Integrated with its IT Services Catalogue, Last Mile Process Automation, and DeepSightTM
Magic FinServ's unique capabilities centered around data and analytics and the IT services catalog bring a differentiated flavor to the table and reinforce the organization's key capabilities while navigating the challenges of data management, broken tech stacks, and scalability.
Our core competence is data while leveraging our cloud and automation capabilities: McKinsey estimates that many time-consuming and repetitive processes like accounting operations, payments processing, KYC and onboarding, and AML along with strategic functions like financial controlling and reporting, financial planning and analysis, treasury will have to be automated. Magic FinServ with its focus on data will be strategic to this initiative.
Comprehensive IT services catalog: We focus on multiple needs whether it be advisory, or cloud management and migration, platform engineering, production support, or quality engineering, DevOps and Automation, production support in an integrated manner to help our customers, whether it be fintech's or financial institutions, modernize their platforms and Improve Time and Cost to Market.
Domain experience: The fintech and financial institutions' business landscape is highly complex and diverse. This has been serviced through customized solutions which often create fragmentation and silos. With firms strategically focusing on which core competencies to fortify, you will need a partner that understands the complexities of your focus areas. We bring to the table a rare combination of financial services domain knowledge and new-age technology skills to give you a competitive advantage.
Speedy delivery, minimum dependence on manual effort: From our recent experiences, we know that excessive reliance on manually operated support functions is costly. Our comprehensive last mile process automation tool, Magic DeepSight TM , expedites the time required to turn mountainous data into insights, while meeting regulatory standards and ensuring compliance, with minimum human intervention.
Tailored solutions for financial institutions and fintech: Whether it is a KYC, AML, loans processing, expense management, the AI optimization framework utilizes structured and unstructured data to build tailored solutions that reduce the need for human intervention.
Recover costs quicker than the others: For firms worried about spiraling costs, or having no budget allocated for automation and optimization, our solutions, with a payback period of less than a year can be a huge game changer.

Compliance-ready solutions: What organizations need today are compliance-ready solutions, as they can no longer afford to invest in building one. Our compliance-ready solution for KYC and onboarding is built for broker-dealers, custodians, corporates, fund admins, investment managers, and service providers and is in accordance with industry guidelines and local, national, and international laws.
Ensuring last mile process automation by speedily bringing all disparate processes into one environment. It is observed that when fintech scales, its IT system is put under immense pressure. As a result, organizations have to deal with disruption. Additional staff are then hired. Increasing costs. With our focus on cloud capability and automation and data-focused services we are in a position to facilitate the last mile process automation. Thereby bridging the gap that still exists in our daily workarounds. Also, DeepSight TM , a Magic FinServ platform with AI/ML and RPA at its heart, automates and integrates last mile business processes for improved user experience and enhanced benefits realization.
A precursor of tough times: Act Fast, Act Now!
The current situation is a precursor of tough times ahead. Jamie Dimon, CEO of JPMorgan, said in his annual address to shareholders last year, banks and Financial Institutions needed to adopt new technologies such as artificial intelligence and cloud technology "as fast as possible."
So, the time to act is now. We understand your problems, and we have a solution to address those. For more information write to us or visit our website www.magicfinserv.com for a comprehensive overview of what we do.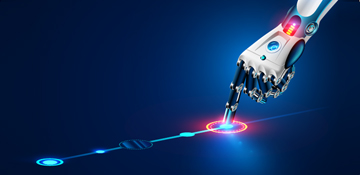 Magic DeepSight™
Comprehensive Data Extraction, Transformation, and Delivery using AI.
Get insights straight into your inbox!