Assessing your firm's Cloud Maturity
Ishita Sharma
March 12 2021
Burdened by silos and big and bulky infrastructure, the financial services sector seeks a change that brings agility and competitiveness. Even smaller financial firms are dictated by a need to cut costs and stand out.
"The widespread, sudden disruptions caused by the COVID situation have highlighted the value of having as agile and adaptable a cloud infrastructure as you can — especially as we see companies around the world expedite investments in the cloud to enable faster change in moments of uncertainty and disruption like we faced in 2020." Daniel Newman
Embracing cloud in 2021
The pandemic has been the meanest disrupter of the decade. Many banks went into crisis mode and were forced to rethink their options and scale up to ensure greater levels of digital transformation. How quickly these were able to scale up to meet the customer's demands became a critical asset in the new normal.
With technology stacks evolving at lightning speeds and application architecture replaced with private, public, hybrid, or multi-cloud, the financial services sector can no longer resist the lure of the cloud. Cloud has become synonymous with efficiency, customer-centricity, and scalability.
Moreover, most financial institutions have realized that the ROI for investment in the cloud is phenomenal. The returns that a financial firm may get in 5 years are enormous. As a result, financial firms' investment in the cloud market is expected to grow at a CAGR of 24.4% to $29.47 billion by 2021. The critical levers for this phenomenal growth would be business agility, market focus, and customer management.
Unfortunately, while cloud adoption seems inevitable, many financial industry businesses are still grappling with the idea and wondering how to go about it efficiently. The smaller firms are relative newcomers in terms of cloud adoption. The industry had been so heavily regulated that privacy and fear of data leaks almost prevented the financial institutions from moving to the cloud. The most significant need is trust and reliability as migration to the cloud involves transferring highly secure and protected data. Therefore, the firms need a partner with expertise in the financial services industry to securely envision a transition to the cloud in the most seamless manner possible.
Identifying your organization's cloud maturity level
The first step towards an efficient move to the cloud is identifying your organization's cloud maturity level. Maturity and adoption assessment is essential as there are benefits and risks involved with short-and long-term impacts. Rushing headlong into uncharted waters will not serve the purpose. Establishing the cloud maturity stage accelerates the firm's cloud journey by dramatically reducing the migration process's risks and sets the right expectations to align organizational goals accordingly.
Progressing from none to optimized, presented below are the levels in terms of maturity. Magic FinServ uses these stages to assess a firm's existing cloud state and then outlines a comprehensive roadmap that is entirely in sync with the firm's overall business strategy.
STAGE 1: PROVISIONAL
Provisional is the beginner stage. At this stage, the organization relies mainly on big and bulky infrastructure hosted internally. There is little or no flexibility and agility. At the most, the organization or enterprise has two or three data centers spread across a country or spanning a few continents. The LOBs are hard hit as there is no flexibility and interoperability. Siloed culture is also a significant deterrent in the decision-making process.
The process for application development ranges from waterfall to basic forms of agile. The monolithic architecture/three-tier architecture hinders flexibility in the applications themselves. The hardware platforms are typically a mix of proprietary & open UNIX variants (HP UX, Solaris, Linux, etc.) to Windows.
There is a great deal of chaos in the provisional stage. Here the critical requirement is assessing and analyzing the business environment to develop an outline first. The need is to ensure that the organization gains confidence and realizes what it needs for fruitful cloud implementation. There should be a strong sense of ownership and direction to lead the organization into the cloud, away from the siloed culture. The enterprise should also develop insights on how they will further their cloud journey.
STAGE 2: VIRTUALIZATION
In this next stage of the cloud maturity model, server virtualization is heavily deployed across the board. Though here again, the infrastructure is hosted internally, there is increasing reliance on the public cloud.
The primary challenges that organizations face in this stage of cloud readiness are related to proprietary virtualization costs. LOBs may consider accelerating movement to Linux-based virtualization running on commodity servers to stay cost-competitive. However, despite the best efforts, system administration skills and costs associated with migration remain a significant bottleneck.
STAGE 3: CLOUD READY
At this significant cloud adoption stage, applications are prepared for a cloud environment, in the public or private cloud as part of the portfolio rationalization exercise.
The cloud migration approaches are primarily four types
Rehosting: It is the most straightforward approach to cloud migration and as the name implies consists of lifting and shifting applications, virtual machines from the existing environment to the public cloud. When a lift-and-shift approach is employed, businesses are assured of minimum disruption, less upfront cost, and quick turn-around-time (this is the fastest cloud migration approach). But there are several drawbacks as well - there is no learning curve for cloud applications. Performance is not enhanced as there is no change in code. It is only moved from the data center to the cloud.
Replatforming: Optimize lift and shift or move to another cloud from the existing cloud. Apart from what is done in the standard lift-and-shift, it involves optimization of the operating system (OS), changes in API, and middleware upgrade.
Refactoring/Replacing: Here, the primary need is to make the product better and hence developers re-architect legacy systems to build cloud-native systems from scratch.
The typical concerns at this cloud adoption stage are quantitative such as the economics related to infrastructure costs, developer/admin training, and interoperability costs. Firms or organizations are also interested in knowing the ROI and when it will finally break-even.
At this stage, an analysis of the organization's risk appetite is carried out. With the help of a clear-cut strategy, firms can stay ahead of the competition as well.
STAGE 4: CLOUD OPTIMIZED
Enterprises in this stage of cloud adoption realize that cloud-based delivery of IT services (applications or servers or storage or application stacks for developers) will be its end objective. They have the advantage of rapidly maturing cloud-based delivery models (IaaS and SaaS) and are increasingly deploying cloud-native architecture strategies and design across critical technical domains.
In firms with this level of maturity, cloud-native ways of developing applications are de facto. As cloud-native applications need to be architected, designed, developed, packaged, delivered, and managed based on a deep understanding of cloud computing frameworks, the need is for optimization throughout the ecosystem. The applications are designed for scalability, resiliency, and incremental enhance-ability from the get-go. Depending on the application, supporting tenets include IaaS deployment & management and container orchestration alongside Cloud DevOps.
Conclusion
Cloud adoption has brought the immense benefits of reduced Capex Spend, lowered complexity in IT management, and improved security and agility across firms. The financial services sector has also increasingly adopted the cloud. Despite the initial apprehensions in terms of security and data breaches, an overwhelming 92% of banks are either already making effective use of the cloud or planning to make further investments in 2021/22, as evident from a report by the Culture of Innovation Index, recently published by ACI Worldwide and Ovum.
While cloud adoption is the new norm, doing it effectively starts with identifying where the firm is currently and how long the journey is to be 'cloud-native.'
Magic FinServ's view of Cloud Adoption for Financial Firms
Magic FinServ understands the importance of a practical cloud roadmap. It strategizes and enables firms to understand what it is that they need. We are committed to finding the right fitment according to the financial firm's business.
While in recent times, the preference is for a multi-vendor hybrid cloud strategy. With our cloud assessment and remediation services tailored specifically for financial institutions, we thoroughly understand the specialized needs of the capital market. Our team comprises capital-market domain expert cloud architects who assess, build, design, migrate cloud solutions tailored just for capital market players, and are in total compliance with the industry's complex regulatory requirements.
At Magic FinServ, the journey begins with assessing maturity in terms of technical and non-technical capabilities. Magic has developed a comprehensive 128 point assessment that measures your organization's critical aspects of cloud and organizational readiness. We understand the operational, security, and confidentiality demands of the buy-side industry and advise your firm on the best course of action.
Magic FinServ helps demystify the cloud migration journey for firms and then continually improve the environment stability with the advanced Cloud DevOps offering, including SecDevOps. Our highly lauded 24/7 Production support is unique as it is based on adhering to SLAs at each stage of the journey. The SLAs are met across the solution and not just one area, and proper reporting is done to prevent any compliance-related issues. To explore how your organization can realize optimum cloud benefits across various stages of the cloud adoption journey, reach out to us at mail@magicfinserv.com or Contact Us.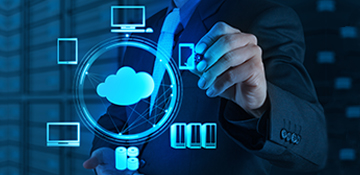 Transforming Your Cloud Journey
Build and Manage secure, scalable and resilient cloud solutions to gain competitive advantage.
Get insights straight into your inbox!